Supreme Court"
Supreme Court
Stephen Halbrook is an attorney with extensive knowledge of the historical underpinnings of the Second Amendment and practical knowledge of litigating in this rapidly evolving area of law. His writings include topics as diverse as Gun Control in the Third Reich and The Founders' Second Amendment, and he was heavily involved in Heller and McDonald."

– U.S. District Judge Michael J. Reagan, in Shepard v. Madigan, 2014 WL 4825592, *7 (S.D. Ill. 2014).
Cases Argued
On Brief
Civil and Criminal Cases Litigated
Gun Control Act/National Firearms Act
Firearm technical classifications
ATF regulatory compliance
FFL warning conferences, license denials,
and revocations
Forfeitures
Legal disabilities and restoration of civil rights
Criminal defense
State and Local Laws
"Assault weapon" restrictions
Legal status of firearms
Challenging restrictions
Testimony on Judge Sotomayor nomination, Senate Judiciary Committee
Testimony on Eric Holder nomination, Senate Judiciary Committee
Senate Hearing, Feinstein Semiauto Ban & Fix NICS, Dec. 6, 2017
Introduction

Testimony

Q&A

Testimony regarding the Sportsmen's Heritage & Recreational Enhancement (SHARE) Act, September 2017

Independent Institute Research Fellow

"Gun Control: The Kristallnacht Version Of 'Common-Sense Safety'," Investor's Business Daily (Nov. 15, 2018).
"The Right of 'The People' to 'Bear Arms': The Common Law, the Second Amendment, and the Carrying of Firearms Outside the Home" (2019).
"Firearm Sound Moderators: Issues of Criminalization & the 2nd Amendment," 46:1 Cumberland Law Review 33 (2016).
"Reality Check: The 'Assault Weapon' Fantasy & Second Amendment Jurisprudence," 14 Georgetown Journal of Law & Public Policy 47 (2016).
"N.Y.'s Not So 'SAFE' Act," 78 Albany L. Rev. 789 (2015).
"The Empire Strikes Back: The District of Columbia's Post-Heller Firearm Registration System," 81 Tennessee Law Review 571 (2014).
"The Right to Bear Arms in the Virginia Constitution and the Second Amendment: Historical Development and Precedent in Virginia and the Fourth Circuit," 8 Liberty University Law Review 619-47 (Summer 2014).
"The Swiss Confederation in the Eyes of America's Founders," 48 Swiss American Historical Review No. 3, 32-69 (Nov. 2012).
"'Why Can't We Be Like France?' How the Right to Bear Arms Got Left Out of the Declaration of Rights and How Gun Registration Was Decreed Just in Time for the Nazi Occupation," XXXIX Fordham Urban Law Journal, No. 5, 1637-94 (Oct. 2012).
"From Heller to Chicagoland: Will Reconstruction Come to the Windy City?" 3 Northeastern University Law Journal, No. 1, 105 (2011).
"The Constitutional Right to Hunt: New Recognition of an Old Liberty in Virginia," 19 William & Mary Bill of Rights Journal, Issue 1, 197-233 (2010).
"Heller, the Second Amendment, and Reconstruction: Protecting All Freedmen or Only Militiamen?" 50 Santa Clara Law Review 1073 (2010).
Radio Interviews:
Die Waffe als Teil der Identität, Deutschlandfunk, Mai 2019
Common Sensei, Laura Rosen Cohen – Podcast on Gun Control in 3rd Reich, May 2019
Podcast on the Second Amendment from the Duncan School of Law, February 2019
In the Rabbit Hole Urban Survival Podcast, September 2018
Liberty Watch Radio, August 2018
"Out of Order" Podcast, August 2018
TV Appearances: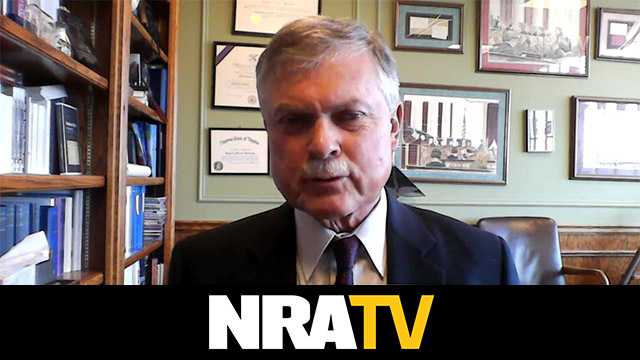 Latest Appearance: The Broken Constitution in New York City (6-4-19)

Click Here for More NRA TV Appearances
(Scroll past "Episodes" and down to "Videos" to see relevant video clips)


"Does the Right to Bear Arms Include a Right to Carry Handguns in Public?" Federalist Society, Washington, D.C., Jan. 15, 2019

"Assault Weapons or Assault on the Constitution?" Long Island Federalist Society, April 24, 2018

Stossel (Fox Business Network), October 2014
The Steve Malzberg Show (Newsmax TV), October 2014
The Daily Ledger (One America News), January 2014